I am certainly not one of her "political opponents" nor could I care less about her politics but if I still lived in Cambridge, I would have serious issues with her judgement and the fact that she made a choice to break the law and has absolutely no regrets about what she could have done to the woman that she hit.  Very clearly, she does not feel that the laws apply to her.  According to the blood tests, she had approximately 2 bottles of wine in her and yet she is still holding to the 3 drink defence.   Just because you use drink it out of a bottle does not mean that it is only one drink.
I do share her opinion of being disappointed but not surprised by the conviction.
While you're reading this please send your thoughts and prayers out to Grande Prairie, Alberta.  Today is the second anniversary of the Warrior Football players deaths.  They were the 5 boys hit by a Drunk Driver and 4 were killed.  By the way, the driver was sentenced on February 28, 2013 and he was granted day parole last week.  8 months for 4 boys lives.  Think about that as you read the comments from Councillor Wolf and maybe you can begin to understand what victims of Impaired Drivers deal with every day.
Coun. Pam Wolf fined, banned from driving following conviction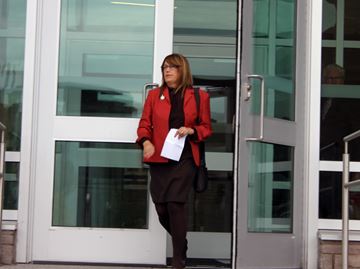 Conviction
Bill Jackson, Times Staff
Pam Wolf leaves the courthouse in Kitchener on Thursday.
SIDEBAR
Here is a prepared statement Wolf gave to the Times following today's court hearing:
I am disappointed in the decision of the judge but not surprised, given the media attention to my accident. I was advised by legal council to fight the legal charges due to the inconsistencies in the evidence and the procedures in my case.
All Canadians are allowed due process and the right to defend themselves before the court. Unfortunately my process has been very public and prolonged.
I apologize once again to the driver whose car I scraped, my family, constituents and colleagues.
This whole experience has been a wake-up call for me and many others. I hope one of the positive outcomes is the community conversation about consuming any alcohol before driving. No amount of alcohol is safe to drink before driving.
I now wish to move forward and focus on serving the people of Cambridge as I have done for the past seven years. Today is Anti-Poverty Day and in Cambridge our Self-Help Food Bank is feeding 1,800 people each month.
My husband and I have been longtime supporters of the food bank and I encourage everyone to make a donation to the food bank so that we can meet this need.
Cambridge Times
ByBill Jackson
KITCHENER – A judge dismissed an impaired driving charge against Cambridge Coun. Pam Wolf on Thursday, but found that she "created an inherent risk of danger" being in the care and control of her car while having more than the legal limit of alcohol in her system.
Superior Court Justice John Lynch used case law to support his ruling – that a person can pose a risk of danger, even if they aren't driving inebriated.
Wolf was charged with impaired driving and operating a vehicle with more than 80 mgs of alcohol in 100 mls of blood last November, following a two-car collision near Breslau. There was minor damage to both vehicles and no injuries to either driver.
During her trial, held in August, Wolf's defence argued that police didn't conduct a breathalyzer test within the time reasonably practicable – two hours from the time of her collision. However, Lynch found that breath samples were taken as soon as possible and within the proper timeframe from when officers found her behind the wheel of her vehicle, lending credence to the over 80 charge.
Wolf blew a reading in excess of 90 mgs, almost three hours after the collision.
Lynch said that evidence of Wolf's attempts to deal with the collision and pay for damages without the involvement of police pointed to the potential of continued motor vehicle operation.
However, he said the Crown did not establish a case for impaired driving.
He cited police officers' observations of a little slurring, a bit of hesitation and slightly glossy eyes, but no corroborating evidence of an unsteady walk, which could have been attributed to Wolf wearing high heels in a gravel parking lot.
Wolf was on her way home from an awards ceremony in Kitchener at the time of the crash. She admitted during her testimony to having a couple glasses of wine at the ceremony, where she handed out an award on behalf of the city.
On her way home, the roads were slick due to wet weather. Wolf testified that her car tires needed replacing and that her eyeglass prescription needed to be renewed, as she'd been having difficulties with depth perception.
Lynch acknowledged that Wolf probably took a turn at too high of a speed, but also said the driver of the other car involved in the collision saw nothing peculiar about Wolf's behaviour, and that the onus for impairment must relate to the ability to operate a motor vehicle, and must be proven beyond a reasonable doubt.
Following Lynch's ruling, Wolf told the court she takes the charges against her seriously and apologized for her actions, adding that she will continue to abstain from drinking and driving.
Lynch ordered Wolf to pay a $1,000 fine, plus a surcharge of $150, and banned her from driving for a year.
Outside the courthouse, Wolf told members of the media that the possibility of appeal is something that still needs to be discussed. She said she hopes the positive that comes out of her case is that people realize how easy it is to be charged.
The Ward 5 councillor said the entire ordeal has been a long and drawn out process and that her political opponents have definitely done their best to keep it alive.
Whether she decides to run for office again is a decision to be made closer to elections, she said.
"I'm sure it's damaged my reputation and so I'll be working that much harder to regain the trust and confidence of my constituents," she told the Times.